Mazda 3 Denton Frisco Lewisville TX
2017 Mazda3 4-Door in Denton, Frisco, Lewisville, TX Dealer For Sale
Classic is your Mazda Dealer for the 2017 Mazda3


How much does a new Mazda3 cost?
Starting Price Is Only
$17,845!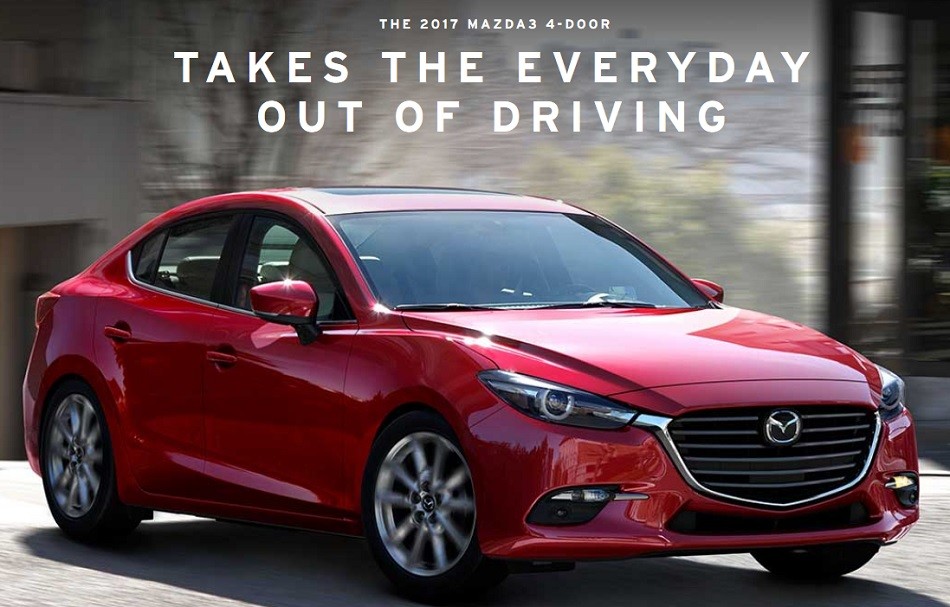 All it will take is one look at the 2017 Mazda3 in Denton Frisco Lewisville TX sedan and you will be able to see just what makes it such a great vehicle. It's sleek, smart, capable, and comes with an incredibly affordable price tag. What makes this such a great car? It comes standard with all of the amazing features that a driver could want. You get this vehicle with the latest in all of the technological advancements in every area.
The fuel efficient SKYACTIV 4-cylinder engine gets an amazing 41 MPG on the highway, so you can drive longer and fuel up less. You also get to enjoy an array of standard and available convenience features that go a long way in helping to make your drive more enjoyable. Some of these features include the Mazda Connect Infotainment System that keeps you connected with the world with a number of applications that include internet radio, navigation, and more.The Mazda3 also give you the latest in advanced safety features such as a rearview camera and available blind spot monitoring. For more information on all of the great equipment this smart vehicle has to offer, please see below. We're sure you will be impressed.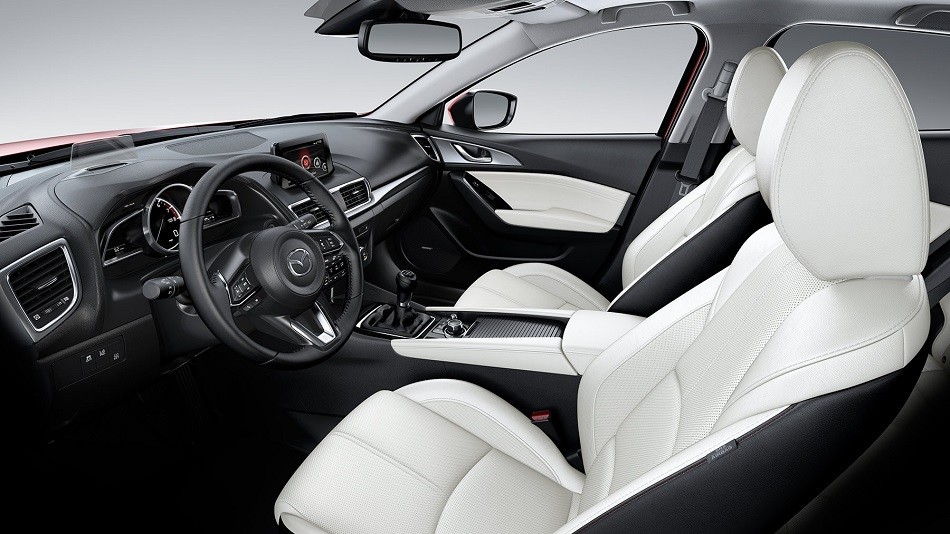 Slip behind the wheel of the 2017 Mazda 3 in Denton Frisco Lewisville TX sedan and you won't want to get back out again.This vehicle has everything you could want to make your drive awesome no matter where you go or how far you're going. With seating for five, you will find that the interior is roomy, organized, comfortable, and comes with a myriad of available convenience features.You get your choice of premium cloth sport seats or the available leather trimmed seating with acoustic-enhancing perforations.
The 6-way manual adjustable driver's seat adjusts to fit you perfectly and the 60/40 split fold down seatback give you more room to transport some of the larger items that you just wouldn't be able to fit into other sedans. You also get some pretty impressive standard convenience features as well, which include the available Active Driving Display, remote keyless entry, push button start, and a number of other fantastic options that will be sure to surprise you. To get a better idea of just what a wonderful car this really is and see even more of what it has to offer, please keep reading, and when you have decided that this is the vehicle for you, feel free to contact the dealership or just drop by and visit with a member of our friendly staff who will be happy to show you how to take one home.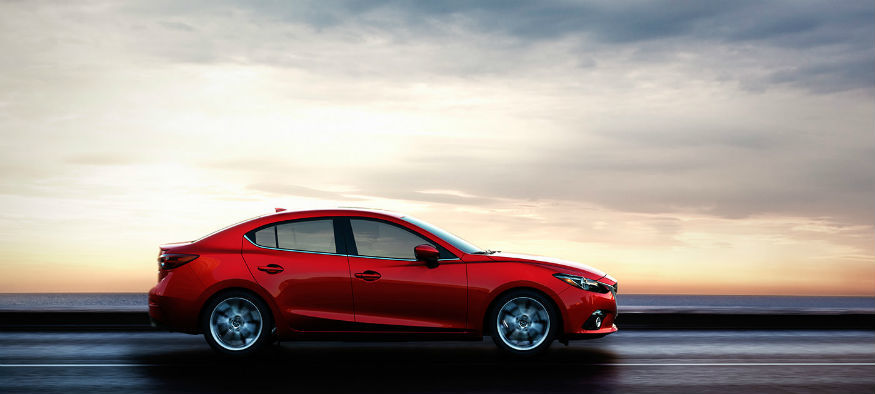 A beautiful interior deserves an equally stunning exterior and that is just what you get with the 2017 Mazda 3 in Denton Frisco Lewisville TX sedan. This very attractive four door vehicle will stop you in your tracks. This is an incredibly sophisticated looking car with sexy, sculpted curves that you will be aching to get your hands on. Available in an array of colors that will appeal to everyone, you will have a hard time finding anything that you won't like.
A set of bright halogen headlights will light up the darkest driving conditions to ensure that you can see everything coming your way, while the daytime running lights will make sure that everyone else will be able to see you no matter the lighting. Rain, sleet or snow, the variable-intermittent windshield wipers will make sure that you will be able to see clearly in even the worst weather and the stylish 16-inch wheels with all season tires will keep your vehicle firmly planted on the road right where it needs to be. Sleek, sexy, striking, no matter how you choose to describe it, we can guarantee that the Mazda 3 Sedan will turn heads no matter where you take it. Go ahead, come by the dealership and take this dazzling car for a test drive today!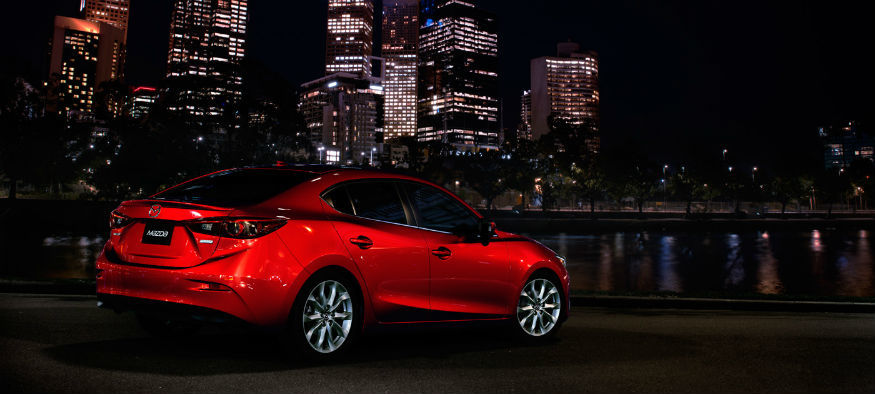 Mazda takes pride in making vehicles that are a joy to drive and the 2017 Mazda 3 in Denton Frisco Lewisville TX sedan is a great example of that. Take a seat behind the wheel and discover the best there is in comfort, convenience and most importantly safety. With the most up-to-date technology features available, you can enjoy phenomenal options such as the Active Driving Display which provides you with real-time vehicle speed, safety alerts and even turn by turn directions. These are all shown right in front of you, allowing you to keep your eyes on the road.
The Commander control knob puts convenience features such as audio and available navigation right at your fingertips. The Mazda Connect Infotainment System offers you a myriad of available and standard applications to keep your drive fun and informative, such as Mazda Navigation, Pandora Radio and SMS Text response just to name a few. Not only do you get the best in technology, but you get the best in safety and security as well. You can have peace of mind knowing that your new car sports plenty of safety equipment, such as advanced dual front air bags, front side-impact air bags and side-impact air curtains, rearview camera, the engine-immobilizing anti-theft system, and much more. There's just not enough room to list all of the amazing features this vehicle has to offer here, which is why we encourage you to stop by or contact the dealership for more details.



Mazda drivers are fun drivers, and we know that every driver has specific needs and wants to make that drive as fun as possible. That's why Mazda offers the 2017 Mazda 3 in Denton Frisco Lewisville TX sedan in three different trim levels and an automatic or manual for each, to ensure that there is something for everyone.

Sport - The highly affordable i Sport model is a great vehicle for drivers that are new to the Mazda family and comes packed with great features like push button start, remote keyless entry, Bluetooth hands free phone and audio, and rearview camera just to list a few. With all of the great features it comes with, this is far from a baseline vehicle.

Touring - For even more great options and equipment, take a look at the i Touring. You will be surprised with everything you get at this level, which include blind spot monitoring, rain sensing windshield wipers, power sliding moon roof with interior sunshade and several other incredible features. Priced at just a fraction more than the i Sport, you definitely will get your money's worth and more!

Grand Touring - For those who are still looking for a little more out of their drive, but don't necessarily need a vehicle that comes "fully loaded", the i Touring model may be just what you're looking for. This level comes with many of the great features from the two previous models, but adds on a lot as well. With this level, you get the benefits of leatherette trimmed seats, the Mazda Navigation System, and the dynamic Bose 9-speaker sound system with surround sound. If you still need more, then keep reading. There's more where that came from.

With all of the terrific benefits and amenities this vehicle has to offer, it's easy to get overwhelmed by them. If you want more information, or have any questions about everything you've seen here, please feel free to get in touch with a member of our knowledgeable staff today and they will be happy to help you out.