Mazda Miata MX-5 Denton Frisco Lewisville TX
2017 Mazda Miata MX-5 in Denton Frisco Lewisville TX Dealer For Sale
Classic is your Mazda Dealer for the 2017 Mazda Miata MX-5


How much does a new Mazda Miata MX-5 cost?


Starting Price Is Only




$24,915!



The all-new 2017 Mazda Miata MX-5 in Denton Frisco Lewisville TX is a fantastic vehicle and its iconic body style makes it instantly recognizable wherever it goes. Small, lightweight and agile; this fantastic car takes performance to a whole new level. All you have to do is take a seat behind the wheel of this vehicle and it won't take you long to decide that it is just what you've been looking for. What makes the new Miata such a phenomenal car? With its innovative SKYACTIV-G 2.0L DOHC 16-valve 4-cylinder engine and six speed manual transmission, you get the best in power, speed and fuel efficiency. This little powerhouse comes with a lot of amazing standard and available equipment to help make your drive safe, comfortable and of course fun! With a striking exterior and technologically advanced interior, you will be sure to get everything you want out of this car and more. Coming well equipped with great features like the available Mazda Connect infotainment system with an array of applications, and standard hands free Bluetooth Streaming, you never have to worry about staying connected to the world outside. For information on more of what the Miata has to offer, please see below where we will highlight many of the features that make this convertible one of a kind.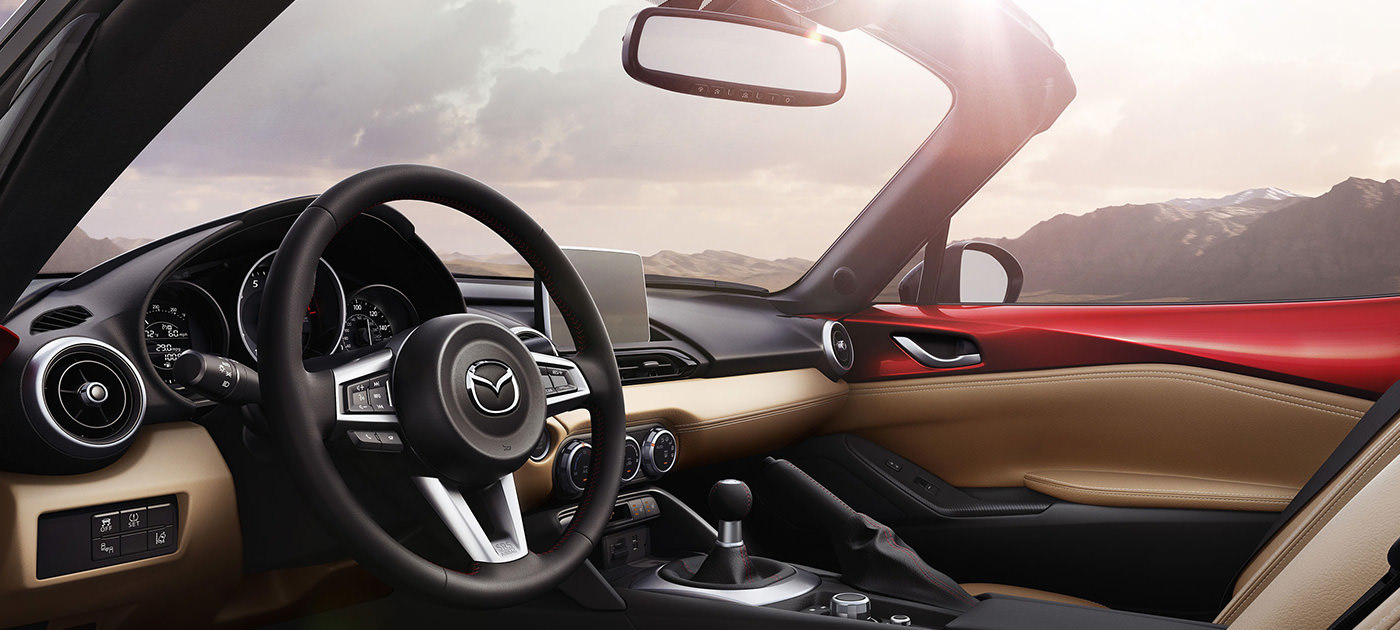 You have to see the interior of the 2017 Mazda Miata MX-5 in Denton Frisco Lewisville TX to believe how amazing it is and how far it has come. It is packed with so many features and options that you really won't believe it. From the innovative technology to the classy and comfortable bucket seats, this vehicle offers you a level of comfort, luxury and convenience that most cars in its class simply do not have, or only offer for a much higher price tag. Perfect for two, this convertible roadster offers sporty bucket seats that come standard in black premium cloth, and are available in leather trim. The open air cabin keeps you in touch with the world around you, while available advanced technology keeps you in touch with the rest of your world. You get the very best in technology too with the available Mazda Connect Infotainment System which comes with multiple applications for a number of internet radio stations, navigation, and even social media. You also get the added standard amenity of Streaming Bluetooth which allows you to make hands free calls, listen to music straight from your phone and much more. One of the most amazing features that we would like to point out is the available Bose audio system. A nine speaker system, you get two in each headrest to ensure that you get clear, premium sound, so go ahead and put the top down and enjoy!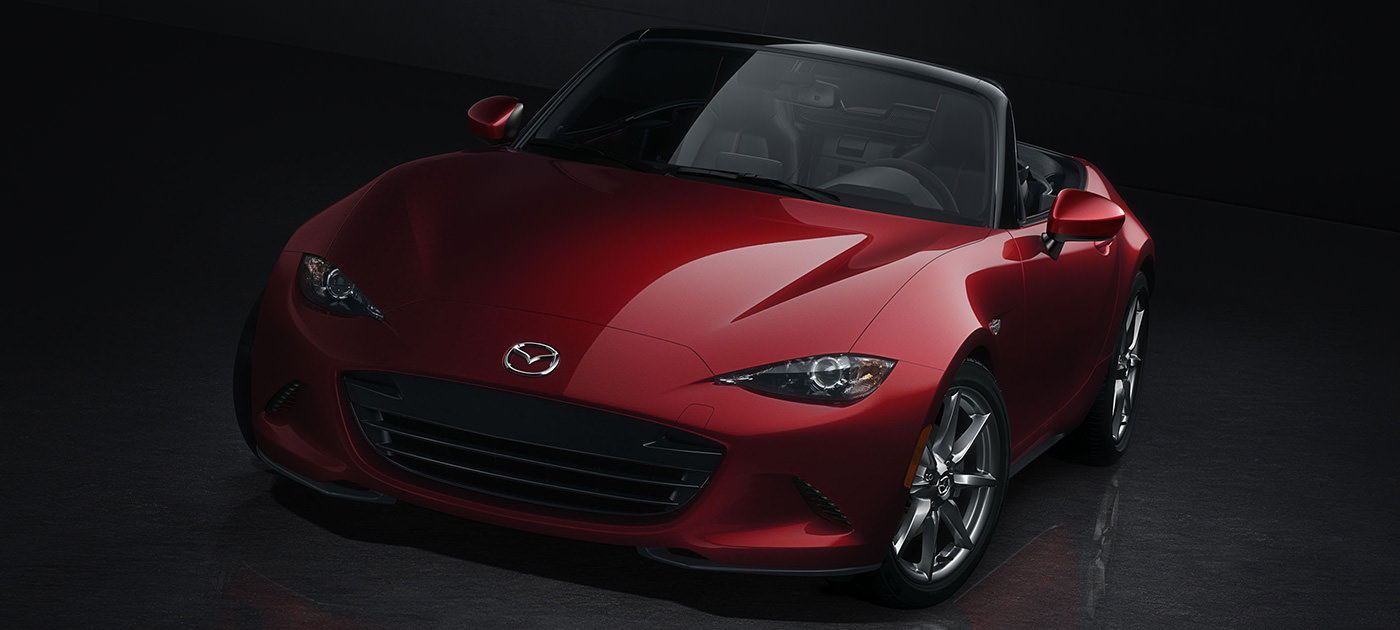 The exterior of the 2017 Mazda Miata MX-5 in Denton Frisco Lewisville TX is truly stunning as well. Mazda's designers have gone out of their way to make sure that you get the very best ride possible, and the Miata will not disappoint. First and foremost, the Miata is a sports car and every aspect of the exterior has been designed to that end. This sleek vehicle with its muscular stance is shorter and sits lower than any of its predecessors, giving it a look of unbeatable speed and agility. Nearly as exciting to look at as it is to drive, we guarantee that this ravishing vehicle will grab attention no matter where it goes, and it's not hard to see why. Sitting on 16-inch aluminum silver alloy wheels and coming in your choice of six bold colors, this vehicle sports some seriously fabulous standard features such as the impressive LED headlights and taillights, dual power black mirrors, and black cloth convertible top. There are a number of other exterior features both standard and available that there just isn't room to list here, which is why we encourage you to come by the dealership and get behind the wheel to discover all of these great features for yourself. When you have decided that this is the car for you, contact a member of our knowledgeable staff who will be happy to show you how!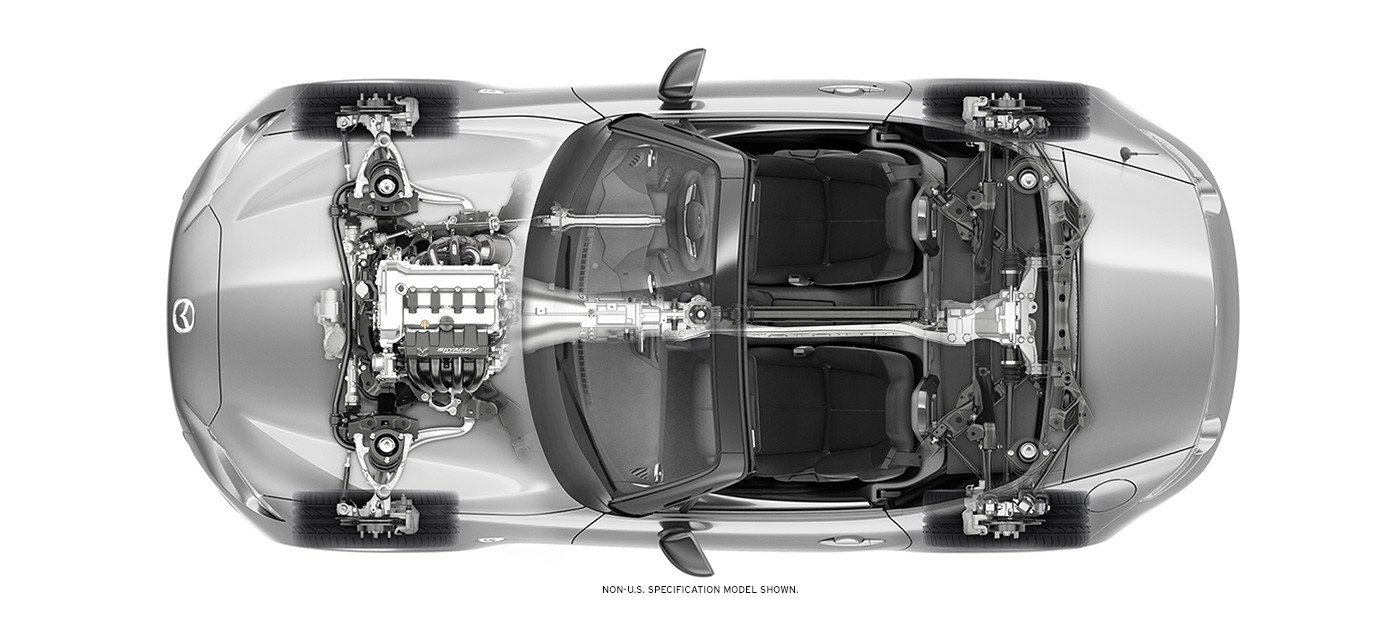 Two words come to mind when you think about the 2017 Mazda Miata MX-5 in Denton Frisco Lewisville TX; performance and fun, but you can't have one without the other, right? Mazda wants to make sure that your drive is fun, exciting and safe. You know you're getting the best with Mazda's powerful and technologically advanced 2.0L DOHC 16-valve 4-cylinder engine with SKYACTIV technology, and with a six speed transmission available in both manual and automatic, you get the best in fuel efficiency as well with up to 36 miles per gallon on the highway. Not many other sports cars can claim to offer the same. The Miata also gives you the best in performance. Its lightweight exterior with rear wheel drive is nearly perfectly balanced when there is a driver behind the wheel. Building a vehicle with power is easy, but to lessen the load and make it lighter is entirely different. This vehicle is 148 pounds lighter than its predecessors and you can feel it in every curve of the road. This wildly responsive car is so agile, you'll almost feel as if it is an extension of yourself. Safety is a concern for all drivers, which is why Mazda has made sure that you are as safe and secure as possible. Safety features available are dual front and side impact airbags, side impact door beams and the engine immobilizer that helps to prevent theft. With plenty of other features too numerous to list here, we're sure you will love everything about this little sports car. Don't just take our word for it though. Come by today and see for yourself!




The 2017 Mazda Miata MX-5 in Denton Frisco Lewisville TX is a sweet ride no matter how you look at it, but we know that not everyone wants the exact same car. Mazda offers the Miata in three different trim levels to ensure that you get just what you want out of your new car.

Sport - The Sport is a great level to start out with for those of you who are new to the Mazda family, or even for those who prefer to be mindful of their budget. With a very affordable price tag, you get great features like premium cloth trimmed seats, LED headlights and halogen daytime running lights, 16-inch aluminum alloy wheels and a six speaker sound system that includes AM/FM, CD, and USB hookup. If you want a little more out of your vehicle, take a look below.

Club - With the Club, you get some of the more premium features such as the Mazda Connect infotainment system, the Bose 9 speaker system with headrest speakers, black cloth seats with red stitching, 17-inch Gunmetal aluminum alloy wheels and more. This is for drivers who like a lot of the extra features but aren't necessarily ready to commit to a vehicle that is "loaded". For those of you who are ready, the last trim level is for you.

Grand Touring - The trim level that has it all, the Grand Touring offers you the very best there is. With this model, you get the added features of automatic climate control, leather trimmed heated seats, the Mazda navigation system, blind spot monitoring, rain sensing windshield wipers and 17-inch dark silver aluminum alloy wheels. That's not even all there is! With more features than you may think is possible to fit into this car, it offers you everything you could want out of your driving experience and more.

Compact, lightweight, fast and powerful, sporty, and fun; the 2017 Mazda Miata MX-5 will amaze you. With all of the information available on this car, it's easy to get overwhelmed by all of the features available, which is why we encourage you to stop by, or fill out the contact form below, and a member of our staff will be happy to assist you with all of your needs.